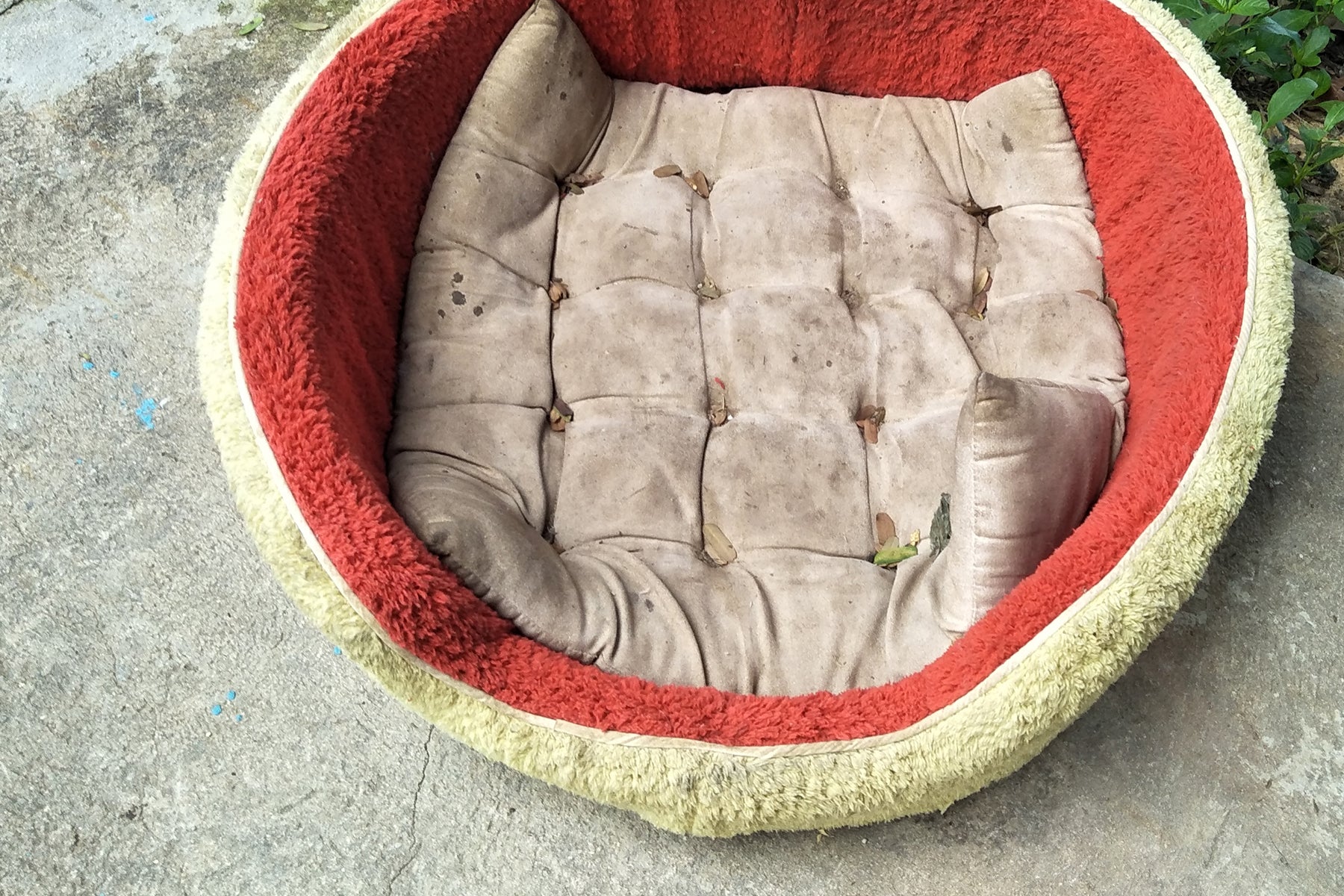 Six signs your dog's bed needs replacing
The average dog spends 12-14 hours sleeping each day so, along with appropriate diet, exercise and socialisation, a comfortable, good quality dog bed is one of the single most important things that impacts your dog's quality of life. No surprise then that our advice is to check your dog's bed regularly for any signs that it may be approaching its 'use by' date. Here's how …
1. Sounds obvious but start by looking at it …
Even if your dog's bed doesn't look like it's on its last legs (like the stinky bed above), check for visible signs of mildew or mould which can form on the underside of a dog bed because of the relatively cold floor underneath, even in well-heated rooms. Examine the bed carefully with the covers on and covers off so that you can inspect the internal mattress and any other pads or fillings. If you see any signs of mildew or mould, take that bed out of action immediately. Breathing fungal spores is definitely not good for your dog and it's not good for the humans in the home either.
Take time to inspect your dog's bed regularly, both inside and out. This is Christine stripping a Waterproof Bed Liner off a mattress to check for potential signs of mildew in the cold weather, despite her home being well heated.
On a more general point, most people know by looking whether or not their dog's bed is ready for retirement. If it looks scraggly and sad and no amount of plumping, airing or washing will rejuvenate it then it's time for a change. Don't dither on this – it's almost certain that your dog is not as caninely comfortable as they deserve to be!
2. Thud test - is the mattress still supportive enough?
A dog bed mattress should be of a regular thickness throughout without any obvious distortions or irregularities, and there should be substance to that mattress - it should keep your dog off the floor, supporting their body weight, and insulating them from the cold.
Use the flat of your hand to go over the mattress and, pressing down firmly onto the mattress, check for lumps and bumps and dips and hollows. Ideally a mattress should feel evenly supportive across the active sleeping area without any significant lumps or "thin" areas. Does the mattress resist the pressure that you are applying consistently across the bed? If not, try to re-shape it to improve its form. If you can't get it into reasonable shape it's unlikely to offer your dog appropriate support.
Standard Charley Chau mattresseses are deep-filled with insulating hollow-fibre to deliver support over time and constructed with internal wall panels, or 'baffles' as we call them in the trade, to prevent the fibre from moving around even after washing. Replacement Mattresses & Spare Bed Covers are available across our collection so you never have to replace an entire dog bed!
Do a "thud" test with your elbow. Put the mattress on a stable, flat surface, bend your arm so that you have a sharp elbow, and bring your elbow down onto the mattress with a sudden, downward force. Be careful! Go gently at first – you need to get a feel for how much pressure to use or you could seriously hurt yourself! What you're doing is mimicking the action of a dog dropping down onto a bed after they've done their circling around, getting ready to settle for a snooze. You never want to hear a hard thud of dog or elbow hitting the surface under the bed. If you do it's time to start shopping for a new dog bed.
3. Sniff test
We all know dog beds can get a little fruity when it comes to our olfactory senses. If your dog's bed is smelly, wash it (both the outer covers and internal mattress and any other fillings) and let it dry out thoroughly.
Then do the sniff test – it's exactly how it sounds. If you've washed a dog bed and you can smell even a hint of eau de dog then it's time for a change. The smell is caused by bacteria and other microbes that are part and parcel of a well-used dog bed. If you're not able to wash that smell out, then the likelihood is that those microbes are not being washed out either and it's time to move on and say farewell to those unwelcome bed fellows.
A fully machine washable dog bed will generally have a longer life span than a dog bed that isn't. To keep a dog bed hygienically clean, wash the outer covers and the mattress inserts and pads regularly to deal with both the surface dirt that you can see as well as the dust mites, bacteria and other nasties that you can't see. "Machine washable everything" is a design mantra for our collection of luxury dog beds.
4. Sanity check the size and shape
As our dogs develop and age, their sleeping preferences can change. Keep an eye on your dog over time and observe how they prefer to sleep. Sanity check that the style and size of their bed is still the best option for them. Our guide to Choosing the Best Winter Dog Bed is full of helpful information.
My beautiful Anna was a Snuggle Bed addict throughout her life but then she started choosing to sleep in a Ducky Donut Bed. I realised that she was no longer sleeping flat on her side – she preferred to lay down, leaning up against something. I ended up designing The Bliss Bolster Bed for little Anna Bean with Mini Bolster Pads that she could nestle into for extra support.
Our Mini Bolster Pads were designed to give extra comfort and support in a dog bed - they're perfect to nestle into and give older dogs a little leverage when their achey joints mean they're not as sprightly as they once were.
We quite often hear from customers that their dogs love to curl up small to sleep and so they assume they can order a bed that others might consider too small for a dog of that size. We advise against this and always recommend that your dog's bed should always be big enough for them to both curl up small and stretch out fully to cope with changing sleeping preferences over time. For advice on measuring a dog for a dog bed, see our Dog Bed Size Guide.
5. Changable weather 
Seasonal changes in temperature will affect your dog's bed and their comfort levels. Wet weather requires moisture-wicking and fast-drying fabrics, hot weather requires breathable fabrics that don't absorb and retain heat. As the seasons change, check your dog's bedding arrangements and adapt accordingly.
For expert advice on how to keep manage your dog's bed for maximum comfort  and optimum hygiene in cold, wintry weather see our guide: Keeping your dog cosy and clean this winter >
6. "Listen" to your dog
Does your dog sleep on the sofa? In your bed? Avoids their dog bed like the plague? Well, it could be because they want to be with you all the time … or it could be that they their dog bed is simply not up to standard!
Theo and Brutus are mostly found in their Winter Warm Snuggle Bed right now
Dogs are canny little creatures of comfort. Why would they sleep in an uncomfortable dog bed when the sofa is the most comfortable place in the room? Put a great dog bed down though and it is likely to be a different story.
We have heaps of customers that contact us to let us know that a Charley Chau  has changed their lives as well as their dog's!  
We specialise in making super-comfy dog beds that perform over time but did you know we've also helped a lot of our human customers get a better night's sleep too? See what our customers have to say in our Real Customer Reviews 
For over a decade we've helped literally thousands of customers in over sixty countries around the world to put together the perfect dog bed for their dog.
If you need any advice or have any questions about a dog bedding dilemma (even if your dog doesn't yet have a Charley Chau) please feel free to drop us a line on hello@charleychau.com or give us a call on 0161 848 8702.