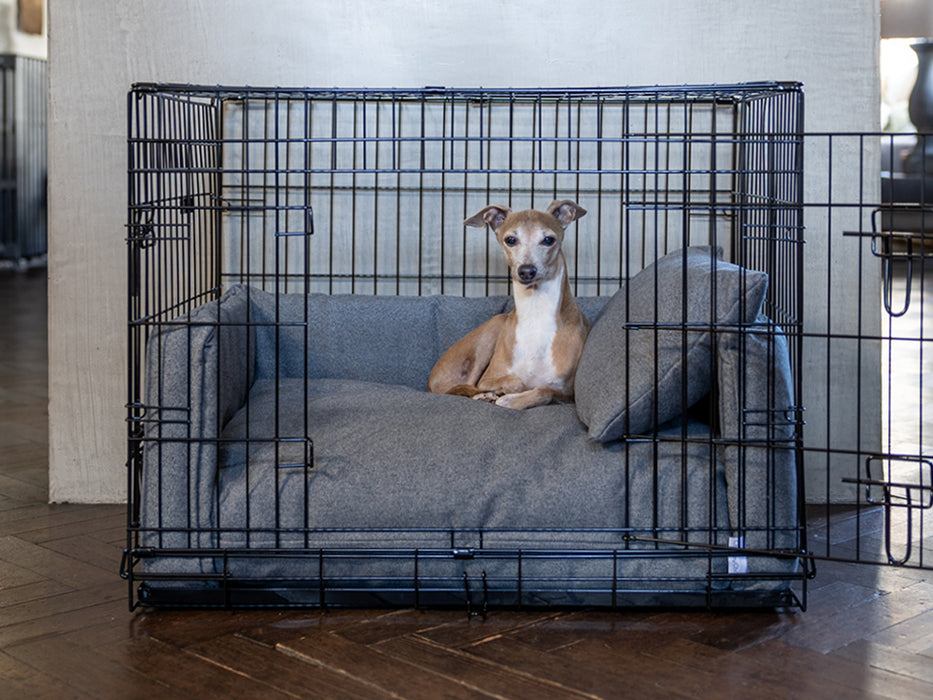 Mattress and Bed Bumper Set for a Dog Crate in Faroe
Original price
£133.33
-
Original price
£283.33
New! Our luxe Day Bed Mattress and coordinating Bed Bumpers in Faroe
The perfect way to luxe up a dog crate and with 10% off when ordering the mattress and bumpers as a set! 
Faroe - superb quality and unrivalled performance
Our gorgeous crate sets are now available in Faroe, a fabulous upholstery quality fabric that has the look and feel of a luxe upholstery wool but without the maintenance headache. 
Faroe is tough, tough enough for heavy commercial upholstery use with a Martindale  Rub Test score of 100,000, plus the fibres used to weave Faroe have been treated with a stain-guard that is OEKO-TEX® STANDARD 100 certified and is a dream to spot clean in between washes.
The deep-filled mattress

The Day Bed Mattress in Faroe is deep-filled with insulating hollow-fibre for a supreme snooze  - constructed with internal wall panels to stop the fibre filling from moving around so that your dog never has to put up with unwelcome lumps and bumps even after the bed has been washed in a machine.
Squidgy bed bumpers
The coordinating Bed Bumpers are padded with a squidgy and resilient wadding, three sections stitched together to fit around three sides of a crate whether you use the door on the narrow end or widest side of the carte. 
Accessories to luxe it up
Gorgeous and practical, and made in England with love!
Sizing
Please note that wire dog crate shown in the photographs is not included with the Crate Mattress and Bed Bumper set. 
Size
To Fit Crate Size (guideline only)
Mattress Dimensions (approx)
Small
24" (60cm) crates
55 x 45cm
Medium
30" (76cm) crates
70x55cm
Large
42" (93cm) crates

95x70

cm
Bed Bumper Dimensions (approximate):
Size
Narrow Opening
(total length and section lengths)
Wide Opening
(total length and section lengths)
Small

171cm (62/47/62cm sections) x 22cm

156cm (47/62/47cm sections) x 22cm

Medium

200cm (72/56/72cm sections) x 29cm

184cm (56/72/56cm sections) x 29cm 

Large

253cm (93/67/93cm sections) x 29cm 

227cm (67/93/67cm sections) x 29cm 
 Crate sizes listed here are for guidance only as there are so many manufacturers of dog crates that make crates to different dimensions.
Washcare
As you would expect from Charley Chau, the Day Bed Mattress and matching Bed Bumpers are machine washable. The Day Bed Cover is removable and the Bed Bumpers wash conveniently, as they are, in one piece.
Day Bed Removable Cover in Faroe
Bed Bumpers in Faroe 
Deep-Filled Luxury Mattress Pad
Note that Large size mattresses should be washed in a large capacity machine. We particularly recommend the Waterproof Bed Liner to keep large mattresses cleaner for longer, reducing the need to wash them as frequently.
For more information on washcare symbols and how to wash your Charley Chau see our Nerds Guide to Washcare >