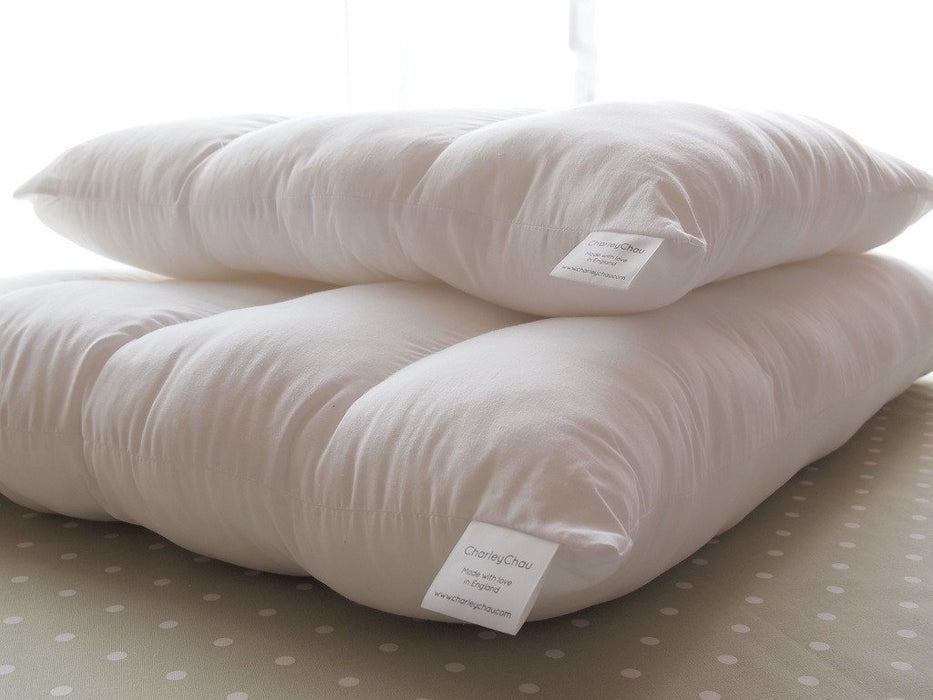 Replacement Deep-Filled Dog Mattresses
Original price
£20.83
-
Original price
£58.33
Replacement Mattress Pads for Charley Chau Beds
Our deep-filled luxury mattress pads are designed to perform over time but accidents can happen and if your Charley Chau Mattress has encountered an irreversible trauma (we'll leave it to your imagination), the good news is that Replacement Mattress pads are available.

We also think it's a good thing to replace your dog's mattress each year in line with the guidance for human pillows - after all, bedding does see a lot of use, especially if your dog sleeps in the same bed every night! 
Charley Chau Mattress Pads are deep-filled with insulating hollow fibre (commonly found in human anti-allergy pillows) and designed with internal wall panels to help prevent the fibre filling from moving around so that your dog won't have to put up with unwelcome lumps or bumps even after washing in a machine.
Made in England with love.
Mattress Dimensions
Please note that the dimensions given below are approximate as measuring a squishy mattress is not an exact science!
Mattress Shape and Size
Approx. Dimensions
Rectangular - Small
60x50cm
Rectangular - Medium
75x55cm
Rectangular - Medium Plus
80x68cm
Rectangular - Large


95x70

cm

Oval - Extra Small
50x39cm

Oval - Small

58x48cm

Oval - Medium

73x60cm

Oval - Large

80x70cm

Oval - Extra Large

96x80cm

Round - Small

55cm diameter

Round - Medium

65cm diameter

Round - Large

80cm diameter
Wash care guide
For more info on wash care labelling please see our nerds guide to wash care.
Charley Chau Mattresses Pads are machine washable on a gentle, synthetics cycle at up to 40 degrees using a low spin speed (less than 900). Please do not use a quick wash or standard cotton wash cycles as they deliver too much agitation during the wash which can cause clumping. Dry naturally in a well-ventilated space and re-shape while damp if necessary. Large and Extra Large Mattresses should be washed in a large capacity machine as folding a mattress and cramming it into a standard domestic washing machine drum will not go well for the mattress!  
Charley Chau's machine washable Waterproof Bed Liners can reduce the need to wash the mattress pad and we particularly recommend them for large and extra large size mattresses.