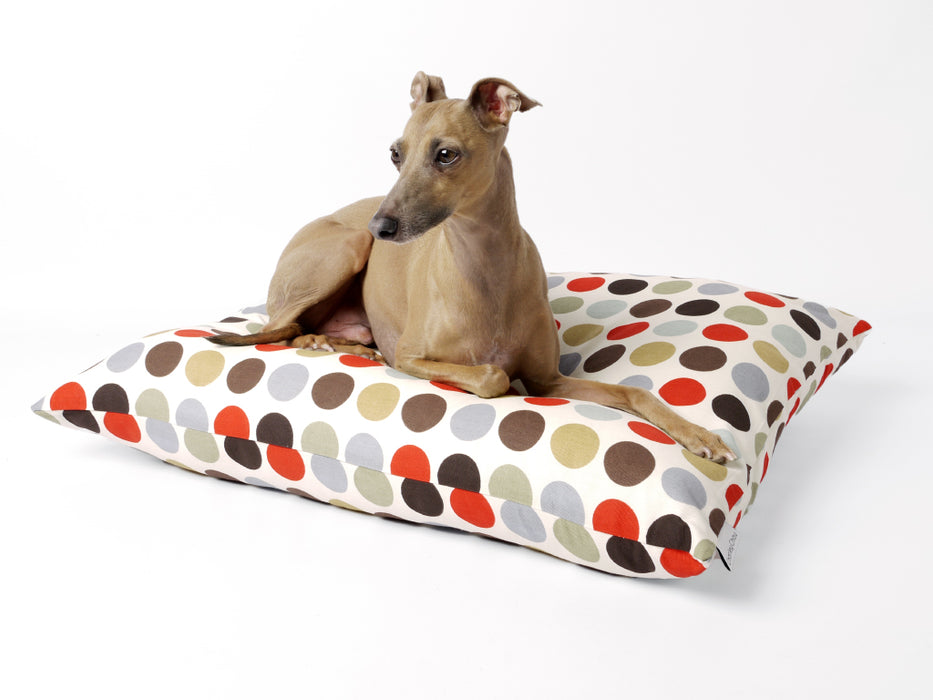 Day Bed Dog Mattress in Cotton
Original price
£50.00
-
Original price
£108.33
30% off our final stock of the Day Bed Mattress in Cotton 
We launched our Day Bed Mattresses in our pretty cotton prints in 2011 and they have been a huge hit with our customers all over the world ever since but we're making way for new designs in our collection so there is a fab 30% off our remaining stock and once they're gone, they're gone so take advantage of the lovely discount before it's too late!
Every dog needs a Charley Chau Day Bed Mattress - perfect for just hanging out and watching the world go by and they look as good as they are comfy to curl up on!

Day Bed Mattresses are great on their own scattered around the house so you don't need to lug beds from room to room and they're also great in the car and in travel crates.
Key to comfort in any dog bed is the mattress and our Day Bed Mattresses have a luxury mattress deep-filled with insulating hollowfibre and constructed with internal wall panels to stop the fibre filling from moving around so that your dog won't have to put up with any unwelcome lumps and bumps, even after the mattress has been machine washed!
Our Cotton Top Day Bed Mattresses have a 100% cotton cover in a range of lovely cotton prints – the covers are fully removable and Waterproof Bed Liners are also available to help protect the mattress inner from moisture, animal dander and general doggie muckiness! Spare Bed Covers are also available to make wash day that little bit easier.
Made in England with love.
Our Day Bed Mattresses are also available in two gorgeous upholstery quality fabrics in some gorgeous colourways: Day Beds in Weave, Day Beds in Velour and Day Beds in Faroe.
Cotton Top Day Bed Mattress Sizes
Small - approx. 60x45cm (in Great Spot, Dotty Charcoal, Dotty Chocolate, Dotty Dove Grey and Dotty Taupe only) - a good fit for most 24" travelling crates
Medium - approx. 70x55cm - a good fit for most 30" travelling crates
Medium PLUS - approx. 80x68cm - a little more extra space than the Medium but that little more can make a huge difference in terms of space for your dog to lie out comfortably! 
Large - approx. 95x70cm - a good fit for most 36 - 39" travelling crates
If you're unsure which is the right size bed for your dog you may want to read our Dog Bed Size Guide.
Washcare
As you would expect from Charley Chau our Day Beds, cover and mattress, are machine washable. Please note that as with any printed cotton fabric, cotton will soften and fade over time. This is more noticeable in the darker. bolder colours such as Charcoal and Red Raspberry. And as with any fabrics, a lower temperature and more gentle wash cycle when washing will help preserve the fabric over time.
Cotton Top Day Bed Mattress Outer Cover: 
Deep-Filled Luxury Mattress: 
(see our Nerds Guide to Washcare for more info)
Note that the Medium PLUS and Large size mattresses should be washed in a large capacity machine as they are too big for a standard domestic washing machine. We particularly recommend a Waterproof Bed Liner for the large size mattress as the liner will keep the mattress cleaner for longer, reducing the need to wash the mattress as frequently.