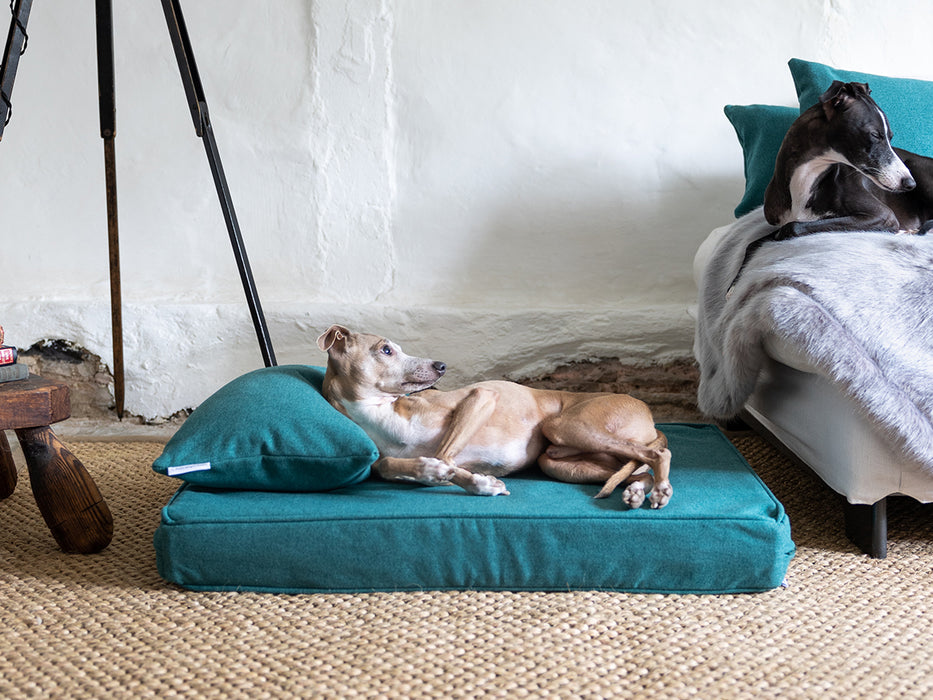 Anti-Microbial Memory Foam Dog Bed Mattress in Faroe
Original price
£112.50
-
Original price
£382.50
There are memory foam dog beds and then there is the Charley Chau Anti-Microbial Memory Foam Dog Bed Mattress. Not all memory foam dog beds are made the same. 
As conscious consumers who want the best for our own and our customers' dogs, we've designed this mattress to perform over time - a sound investment in the long-term comfort and well-being of your dog.

Simple but smart styling, designed to deliver orthopaedic levels of comfort and support throughout a dog's lifetime, with an internal anti-microbial mattress protector to help keep your dog's bed hygienically clean for years to come.
Highlights for the Anti-Microbial Memory Foam Dog Bed Mattress
Orthopaedic levels of comfort and support 
Suitable for dogs at all life stages 

Layered Vasco 40 Memory Foam mattress
Support foam layer to protect from hard floors
Anti-Microbial Mattress Protector included
Finished in Faroe, a beautiful upholstery fabric
Easy "on & off" bed cover design
Fully removable, machine washable covers
Mini Bolster Pads available 

Made in England with love 

The marvellous Memory Foam Base 

Key to any good dog bed is the mattress and our memory foam base is a unique, layered foam mattress made to Charley Chau's exacting specifications with a layer of Vasco 40 foam on top that moulds to support your dog's body (the yellow layer), and a layer of support foam on the bottom to prevent any "thudding" through the floor when a dog stands, jumps or drops on the bed suddenly with force, protecting your dog from the floor. Our foam manufacturer is one of the leading suppliers of memory foam for human beds in the UK.

The super-technical Anti-Microbial Mattress Protector
A big problem with memory foam dog beds is hygiene - memory foam is not machine washable. We've solved that problem by designing our Memory Foam Mattress to include an anti-microbial mattress protector that actively discourages dust mites, bacteria, mould and other microbes from living in the foam mattress. The liner fabric is most commonly found in clinical settings (to seal human mattresses in hospitals) and is a soft, breathable, waterproof and machine washable fabric that will help keep your dog's bed hygienically clean. It's genuinely brilliant! 
Simple but smart piped-edge cover in Faroe  

Simple styling with a box edge construction and smart, piped-edge detail; finished in Faroe, a beautiful upholstery-quality fabric with the look and feel of an upholstery wool. Faroe has been a huge hit with our customers since its launch in 2020 because it's gorgeous but tough - tough enough for heavy commercial upholstery use with a Martindale Rub Test score of 100,000.  The fibres in Faroe are also treated with a stain-guard that is OEKO-TEX® STANDARD 100 certified, so its a dream to spot clean in between washes. Easy "on & off" covers with a zip fastening running around three sides of the bed to make life very much easier on wash days.
Luxe it up with a Mini Bolster Pad 
Adding a Mini Bolster Pad is a great way to add a little extra comfort to any dog bed - we all know dogs that love to rest their chins or squish their backs into something soft when they hang out in their beds! 

Add a Mini Bolster Pad (filled with ethically sourced duck feathers) to your dogs bed in the same colour as the mattress when ordering on this page, or choose mattress only and style it up with any colours or sizes:  choose from all Mini Bolster Pads.
A blissful bonus with our feather filled bolster nest

This Memory Foam Mattress is also the base for the Memory Foam version of our Bliss Bolster Bed so if at a later date you wish to cocoon the mattress in a luxe bolster nest filled with ethically sourced feathers then we can help you with that! 
Sizing and colourways
The Anti-Microbial Memory Foam Mattress is available in four sizes with the L and XL suitable for dogs up to around 80kg. 
A Mini Bolster Pad is optional and if selected on this page, the relevant sizes are shown below, or order separately from: Mini Bolster Pads.
| | | |
| --- | --- | --- |
| Size | Dimensions (cm) | Mini Bolster Pad (flat cover / filled cover) approx. cm |
| Small | 57x40x6 | 40x27 / 38x24 |
| Medium  | 70x50x8 | 46x28 / 44x25 |
| Large | 103x72x10 | 65x28 / 63x25 |
| Extra Large  | 130x100x10 | 79x28 / 78x25  |
Washcare

Outer Bed Cover in Faroe

Internal Anti-Microbial Mattress Protector (included)

Always ensure the memory foam mattress is protected by the anti-microbial cover when the bed is in use to maintain good hygiene and to prevent damage to the foam. 
For general info on washcare labelling see our Nerds Guide to Washcare Labelling.

A note on our ethically-sourced feathers... 
Our Mini Bolster Pads are made in England and our manufacturer sources the feathers that fill our pads from a Downpass certified feather supplier in Germany. This means that the feathers used in our pads are a by-product of the food industry and humanely sourced (i.e. not collected from live animals, nor from the foie gras industry).