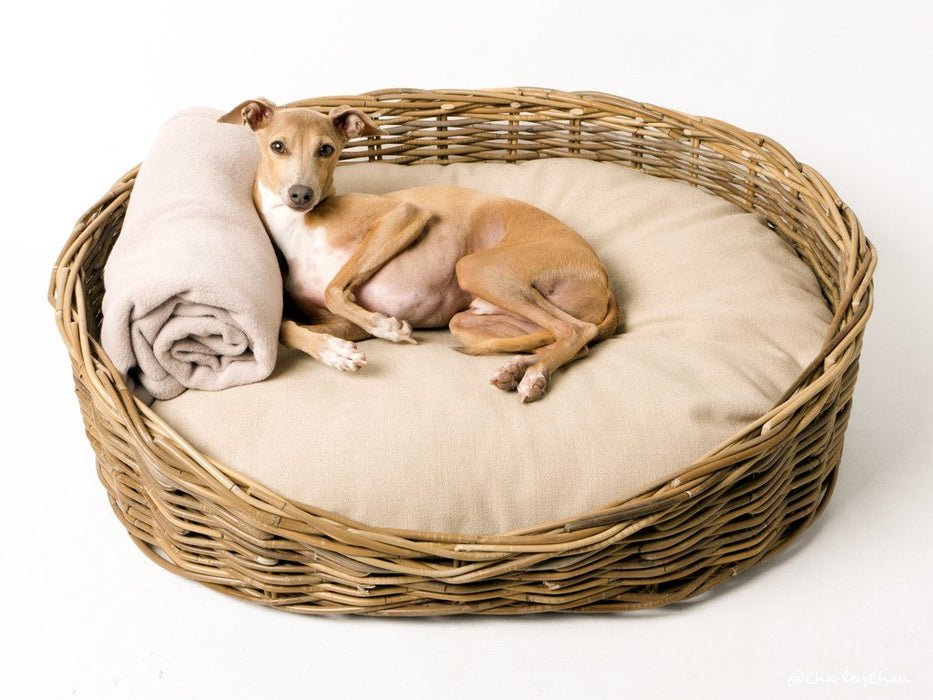 Oval Greywash Rattan Dog Basket & Reversible Mattress Set
Original price
£141.67
-
Original price
£323.33
Our gorgeous Oval Greywash Rattan Dog Basket is now available with a luxurious mattress pad with a versatile reversible cover!
Important Stock Notice: Our Medium and Large size are currently out of stock. Please email hello@charleychau.com for an expected restock date.
Our beautiful Greywash Oval Rattan Dog Basket is now available with a luxurious deep-filled mattress with a versatile two-tone cover and there's 10% off when ordering the two as a set together!
As our existing customers already know, were very keen on our beds being very practical and the cover on the Oval Mattress Pad is a two-tone cover with Stone on one side and Coffee on the other. The fabric is a soft and fluid upholstery grade fabric and the cover is removable and machine washable too.
Just as with our Day Bed collection, the mattress is constructed with internal wall panels to stop the fibre-filling from moving around so that your dog wont ever have to put up with unwelcome lumps and bumps even after the mattress has been washed in your machine.
Handy Waterproof Bed Liners are also available made with a soft waterproof fabric that protects from moisture and dust and general doggie muckiness and helps to reduce the need to wash the mattress inner.
For an added dash of luxury, dress with a Charley Chau Double Fleece Blanket or Faux-Fur Dog Blanket!
Please note that as rattan is a natural cane the colour of our Greywash Oval Rattan Dog Baskets can vary slightly from basket to basket.
If you love the basket but would like to order the basket on its own, or with a blanket bundle to create a blanket bed, see: Oval Rattan Baskets Greywash.
The Oval Rattan Basket is hand-woven to the highest standards in Indonesia with natural rattan canes. The luxury mattress pad (cover and inner) is made in England with love.
Sizing - Oval Rattan Dog Baskets in Greywash
Available in four sizes.
Approximate dimensions (external // internal cm):
Small - 65x54x18cm // 58x48x15cm
Medium - 77x64x23cm // 71x59x20cm
Large - 84x69x26 cm // 79x64x24cm
Extra Large - 93x78x31cm // 87x73x26cm
If you are unsure about what size basket you should choose for your dog please see our Dog Bed Size Guide.
Washcare guide
The Oval Greywash Rattan Dog Basket is very easy to keep clean wipe with a damp cloth (do not use anything abrasive) to keep the rattan clean. If the basket is really mucky for any reason then spray it down with a hosepipe in the garden and leave to dry naturally.
Oval Mattress Pad & Removable Outer Cover
Oval Mattress Pad Outer Cover: is made with an upholstery grade fabric that is am n 85/15% polycotton blend. The cover is removable and machine washable at up to 30 degrees. Dry naturally. If required, iron on a low heat setting.
Deep-Filled Luxury Mattress: has a 60/40% polycotton outer casing and is filled with 100% polyester hollowfibre (commonly found in human anti-allergy pillows). Machine washable on a synthetics cycle up to 40 degrees with a low spin speed. Dry naturally and re-shape while damp.
Rattan Dog Baskets are not suitable for dogs that like to chew furniture and we recommend you wait to invest in a Rattan Basket if your dog is a young puppy!
If you have wooden flooring, or other types of flooring that may be prone to scratching, we recommend that the Oval Rattan Dog Basket is placed on a rug or other lining to avoid any potential scratching of your floor surface.