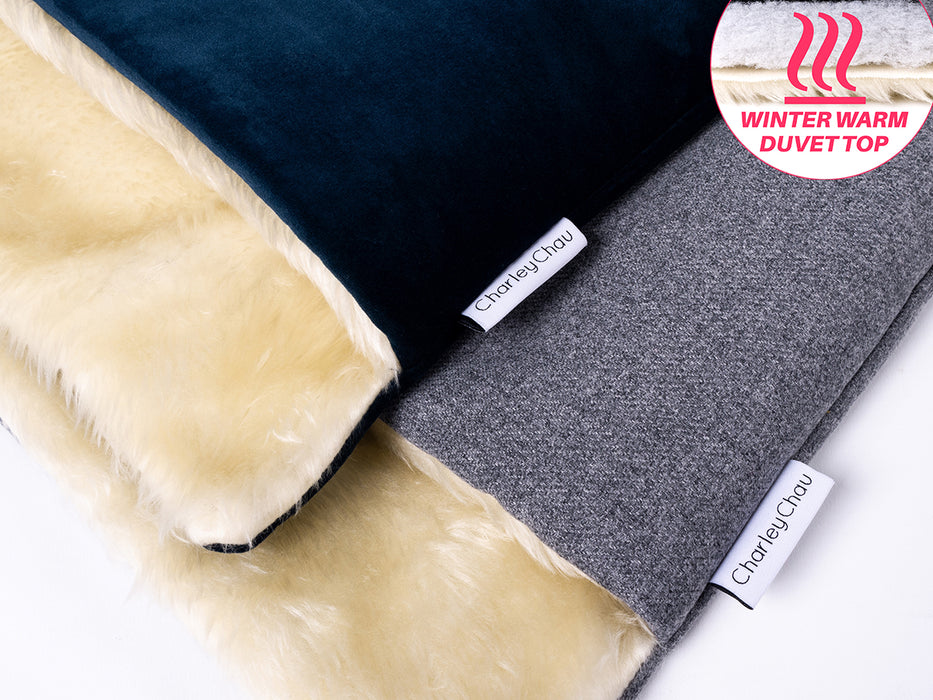 Spare Winter Warm Snuggle Bed Cover
Original price
£75.00
-
Original price
£150.00
Spare Winter Warm Snuggle Bed Covers with a padded duvet top are now available – just like our classic Snuggle Bed Covers but even cosier!
Due to unprecedented demand we have a waitlist in operation for some sizes & colours of our Winter Warm Snuggle Bed Covers. We are taking back-orders at sale prices for delivery as soon as our new stock arrives. The backorder waitlist is in operation for ALL sizes in Nimbus Grey. If you wish to back-order one of our out of stock colourways and sizes then simply place your back-order and we will add you to the waitlist automatically. More info about our Snuggle Bed waitlist on the blog. Please email us at hello@charleychau.com if you have any questions.
The Winter Warm Snuggle Bed Cover launched in 2022 was the first major change we've made to our Snuggle Bed Cover since we first launched in 2010.
We've created a winter warm, padded duvet top with a layer of 350gsm / 9oz wadding between the cosy faux-fur fleece and outer cover fabric to trap warm air and keep your dog even toastier in the cold weather! The wadding provides an insulating air and is the same type of wadding used in human quilts and bedspreads, except we've used a heavier weight than you'd find in most human quilts for extra warmth.
Now you can switch your Snuggle Bed Cover between seasons – choose this Winter Warm Snuggle Bed Cover for the cold, winter season or our Classic Snuggle Bed Covers with the classic blanket top for the rest of the year.
Made in England with love.
Please note that this page is for ordering a bed over only, not a complete bed (which would include the mattress). To order a complete Winter Warm Snuggle Bed (an outer cover with a mattress included) please see our Winter Warm Snuggle Bed product page.

Winter Warm Snuggle Bed Cover Sizes fit our respective Snuggle Bed Mattresses
Sizes given here are the size of the Snuggle Bed Cover on a Mattress. When laid flat without a mattress inside, the covers are slightly larger than stated below.
Small - approx. 65x55cm
Medium - approx. 80x65cm
Large - approx. 105x80cm
Wash care
Machine wash on a gentle synthetics cycle up to 30 degrees and a low spin speed. Dry naturally. 
For more info on wash care please see our nerds guide to wash care.