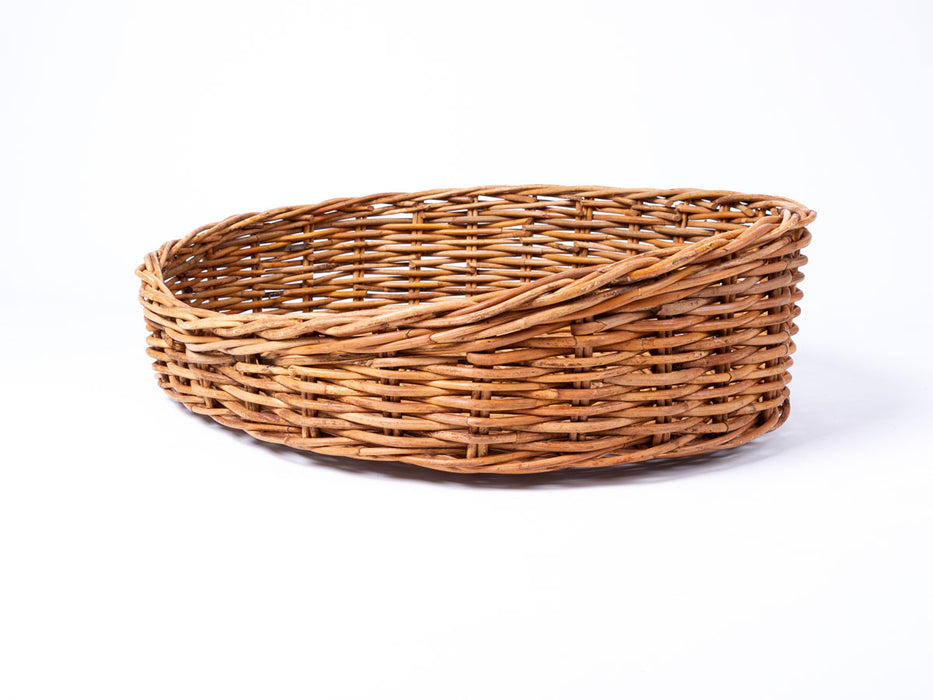 Oval Rattan Dog Baskets - Natural
Original price
£75.00
-
Original price
£158.33
We love a good old-fashioned Oval Rattan Dog Basket!
The Charley Chau Oval Rattan Dog Basket in Natural Rattan is is woven with beautiful rattan canes in warm, golden tones. Classic, timeless styling.
We choose Rattan to create our wicker dog baskets because Rattan is a strong and durable natural cane that can cope with being dragged around and bashed in a bit, unlike some of the cheaper wicker baskets available which are often woven with Willow which in relative terms is brittle and less robust. This is a wicker dog basket that is made to last - Rattan can even be used to make outdoor planters for your garden!
Our Oval Rattan Baskets are available as basket only or save 10% off the basket when ordered as a set with a luxe oval mattress. 
Sizing - Oval Rattan Dog Baskets in Natural
Approximate dimensions (external // internal cm):
Small - 65x54x18cm // 58x48x15cm (sold out but Small size available in Greywash Oval Rattan Dog Baskets)
Medium - 77x65x23cm // 71x60x20cm
Large - 85x70x26 cm // 79x68x24cm
Extra Large - 99x80x28cm // 86x76x25cm
Rattan is a natural cane so please be aware that the colour of each basket can vary slightly to the photos shown.
If you are unsure about what size basket you should choose for your dog please see our Dog Bed Size Guide.
Care guide
Charley Chau Natural Rattan Dog Baskets are very easy to keep clean wipe with a soft, damp cloth (do not use anything abrasive) to keep the rattan clean. If the basket is really mucky for any reason then spray it down with a hosepipe and leave to dry naturally - ideally on a sunny day in the garden.
Rattan Dog Baskets are not suitable for dogs that like to chew furniture and we recommend you wait to invest in a Rattan Basket if your dog is a young puppy!
If you have wooden flooring, or other types of flooring that may be prone to scratching, we recommend that the Rattan Dog Basket is placed on a rug or other lining to avoid any potential scratching of your floor surface.