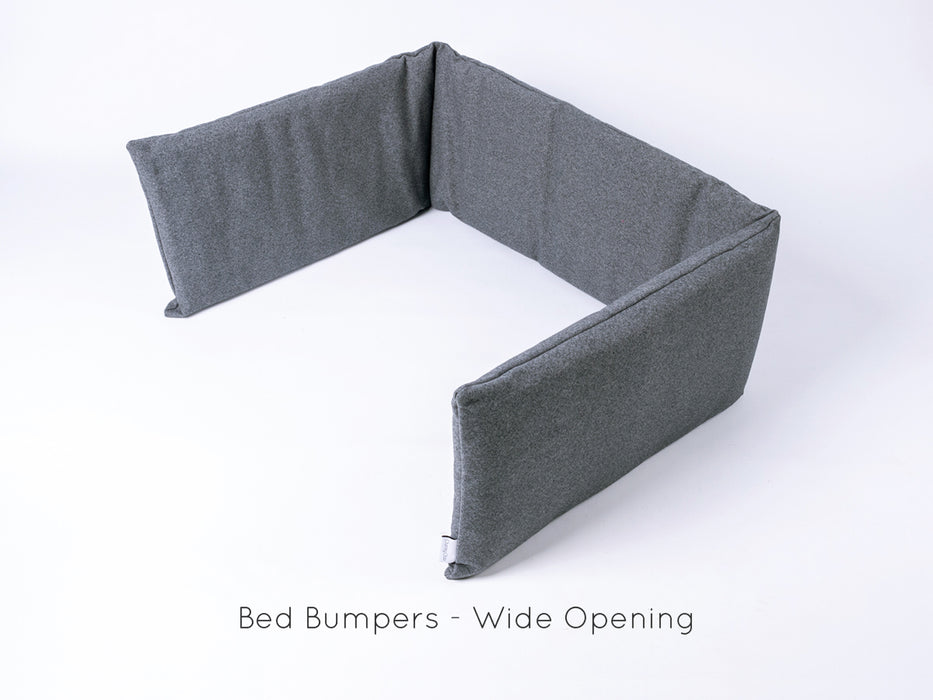 Dog Crate Bed Bumpers (Crate Bumpers) Only
Original price
£45.83
-
Original price
£108.33
Soft and squidgy Bed Bumpers - perfect to cosy up dog crates and baskets!
We launched our Bed Bumpers in our pretty cotton prints over ten years ago and they have been a huge hit with our customers all over the world ever since but we're making way for new designs in our collection so there is a fab 30% off all Bed Bumpers in Cotton  for all of our remaining stock until they're all gone. And once they're gone, they're gone so take advantage of the lovely discount before it's too late! Please note that Weave Slate is excluded from this offer.

Charley Chau Crate Bumpers are perfect for lining the sides of a dog crate so that your dog can nestle into something soft and cosy rather than the horrid wire of a dog crate. Our Crate Bumpers are also fab in solid-sided dog beds such as Wicker or Rattan Dog Baskets or moulded, plastic "tub" beds.

Padded with a resilient wadding filling and made with three sections stitched together into one long continuous bumper, our Dog Crate Bed Bumpers are available to fit crates configured with a door opening on the narrow or long (wide) side of the crate. Our Crate Bumpers are also great for making a wicker or rattan dog basket super-cosy! 
Coordinating deep-filled Dog Crate Mattresses with Waterproof Bed Liners are also available to create an uber-cosy bed for your dog. 
Gorgeous and practical, and made in England with love!
Sizing & Dimensions
Size (to fit crate size)
Narrow Opening
(approx. total length and section lengths)
Wide Opening
(approx. total length and section lengths)
Small - 24" / 60cm crate
171cm (62/47/62cm sections) x 22cm
156cm (47/62/47cm sections) x 22cm
Medium - 30" / 76cm crate
200cm (72/56/72cm sections) x 29cm
184cm (56/72/56cm sections) x 29cm
Large - 37" / 93cm crate
253cm (93/67/93cm sections) x 29cm
227cm (67/93/67cm sections) x 29cm
Crate sizes listed here are for guidance only as there are so many manufacturers of dog crates that make crates to different dimensions. Please note that dog crate shown in the photographs is not included with the Bed Bumpers and is shown for illustrative purposes only.
If your dog is a persistent scrabbler then we recommend that you choose Crate Bumpers in Cotton or Faroe. Weave is a very robust upholstery quality fabric that almost all of our canine customers are 100% fine with but it is a woven fabric with a relatively loose weave and is more susceptible to being "pulled" by persistent scrabblers than Cotton.
Washcare
As you would expect from Charley Chau, our Bed Bumpers are fully machine washable. Please ensure that the bumpers are washed on a gentle synthetics wash (not a cotton or quick wash) using a medium - slow spin speed. Check the care label sewn into the bumpers.
(see our Nerds Guide to Washcare for a guide to wash care symbols and for more info).