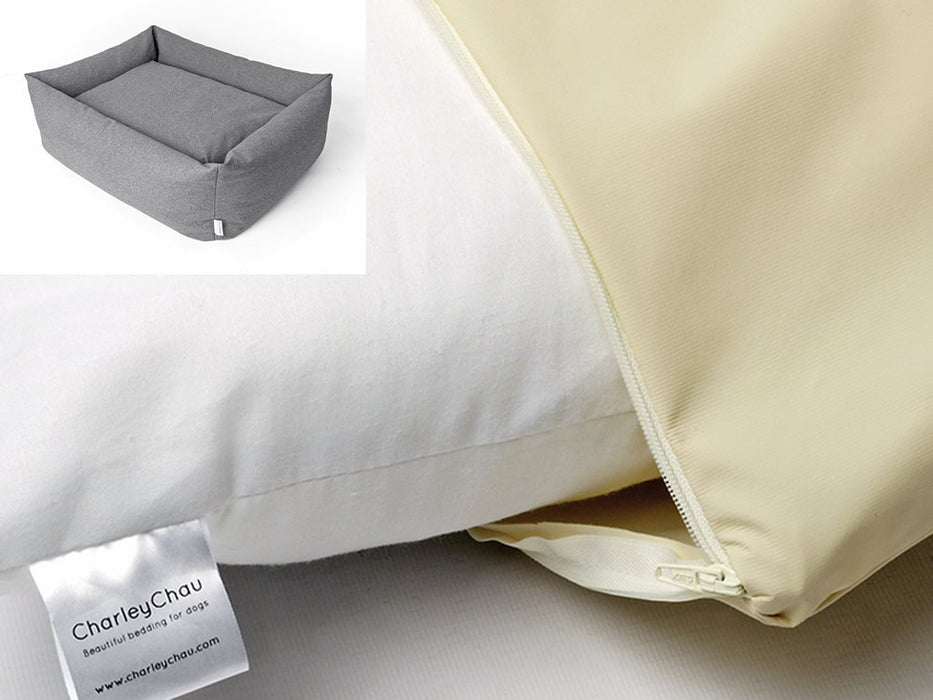 Waterproof Bed Liners for The Bliss Bolster Bed
Original price
£15.00
-
Original price
£86.67
Waterproof Bed Liners help to keep your dog's bed hygienically cleaner for longer
Charley Chau Waterproof Bed Liners protect the mattress and bolster pads in The Bliss Bolster Bed from moisture, dust, dirt and animal dander. This is important as dust mites, bacteria and other microbes that live in dogs beds feed on dander so the less food in the mattress, the fewer the undesirable inhabitants.
From a practical point of view, dog beds stay cleaner for longer with Waterproof Bed Liners, reducing the need to wash the mattress insert and feather pads as often.
Waterproof Liners for The Bliss Bolster Bed are optional and you can choose to:
Line the Luxury Mattress in the base of the bed only 
Line the Bolster Sides only 
Line both the Luxury Mattress and Bolster Sides
Charley Chau Waterproof Bed Liners are made from a soft, breathable waterproof fabric commonly used to make pillow protectors in the healthcare sector. The Liners are removable and machine washable and can also be cleaned in between washes with a pet friendly disinfectant spray/wipes.

Wash care guide
Machine washable on a synthetics cycle up to 60 degrees. Dry naturally or tumble dry on a low heat setting. Please bear in mind that gentle wash cycles and lower temperatures can help prolong the life of any fabric.
For more info on wash care please see our blog: Nerds Guide to Wash Care Labelling.