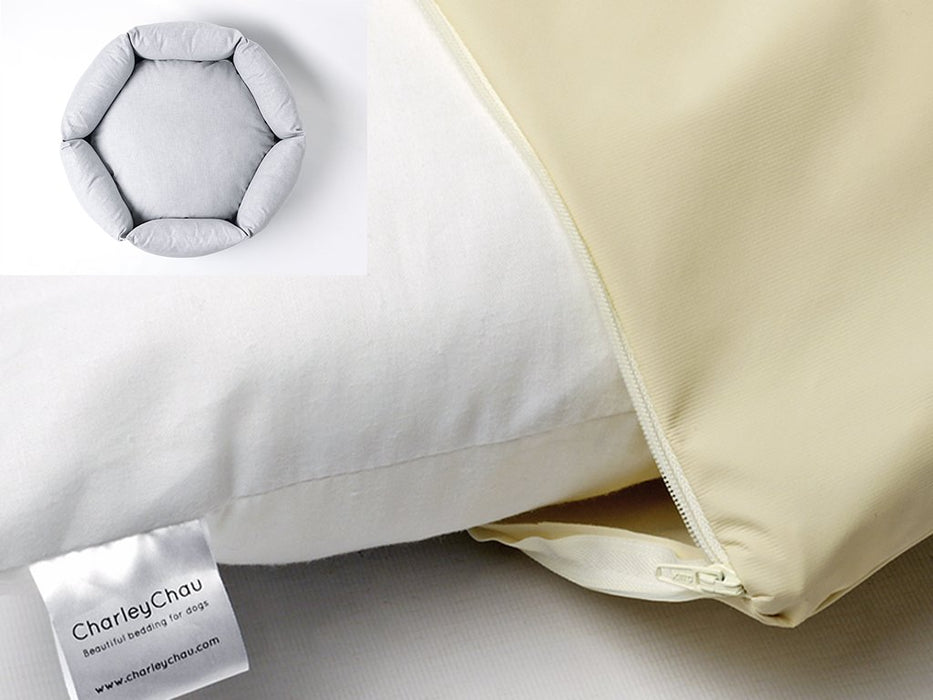 Waterproof Bed Liners for Round Mattresses & Ducky Donut Dog Bed
Original price
£16.67
-
Original price
£76.67
Waterproof Liners obviously protect your dog's mattress inner from moisture but they also help to keep out animal dander and all the dust and dirt that may settle in a dog bed mattress so that the mattress stays cleaner for longer - which means less washing! 

The fabric used in our Waterproof Bed Liners is technically brilliant - waterproof but also breathable - commonly used to make pillow protectors for hospitals! The fabric has a soft "handle" and doesn't rustle - it's not a "crunchy" waterproof fabric! 
Waterproof Liners are available for the feather pad inserts in the donut sides (a set of six liners for the size individual pads), and for the round dog bed mattress in the base are available to order individually or as a set.
Made in England with love.
Waterproof Dog Bed Liner sizes
To fit Charley Chau Ducky Donut Beds and Round Dog Bed Mattresses:
Small (mattress approx 55cm diameter x 9cm height)

Medium (mattress approx 65cm diameter x 10cm height)

Large (mattress approx 80cm diameter x 12 cm height) 
Wash care guide
Machine washable on a synthetics cycle up to 60 degrees. Dry naturally or tumble dry on a low heat setting. Please bear in mind that gentle wash cycles and lower temperatures can help prolong the life of any fabric. 
For more info on wash care please see our blog: Nerds Guide to Wash Care Labelling.