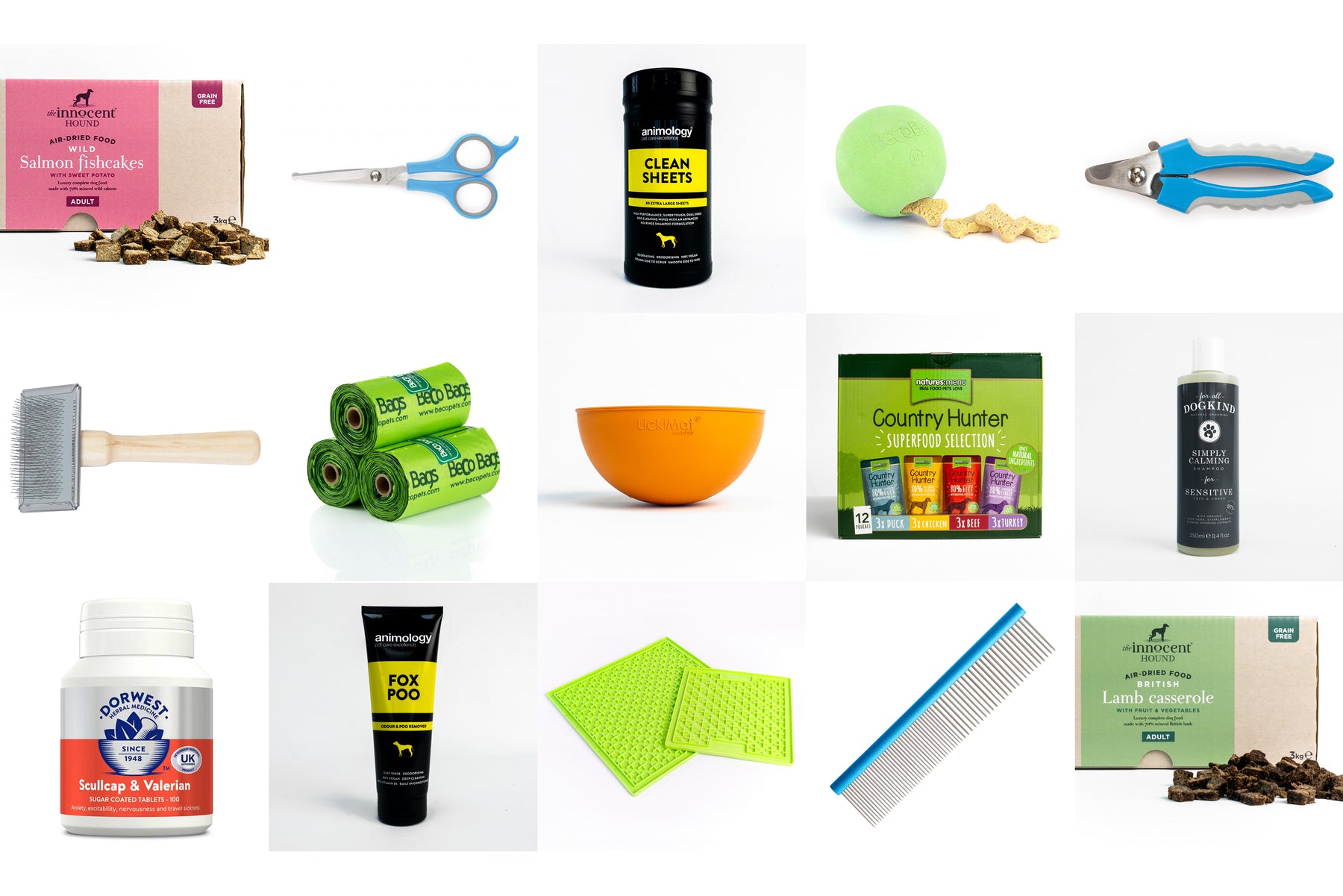 Essential canine kit in our Emergency Dog Supplies Shop
We've put together some essential kit to provide support to our customers who may be struggling to have things delivered from their usual suppliers. Here's our guide to what's in the Emergency Store and why …
We always keep a dry food and a wet food as a back-up, neither of which is our dogs' regular food. It gives us options and flexibility under all circumstances.
A back-up dry food can be used as treats from day-to-day and this is an easy way to get our dogs' tummies used to a new food so that, if we are suddenly caught out on their regular food, we can feed the dry food with a low risk of tummy upsets. Our dogs go crazy for Innocent Hound's Air-Dried Complete Foods: British Lamb Casserole and Wild Salmon Fish Cakes.
Likewise we have an emergency wet food and we always have Country Hunter Superfoods Pouches as the food is a good quality, usually widely available food made with 80% meat (human grade from a consumption perspective) and packed in individual 150g pouches which under normal circumstances we find really handy when travelling. We also use this wet food as a treat – small quantities spread on a Lickimat Buddy Mat for an extended treat time – and again, this is an easy way  to get a dog's tummy used to a new food that you may feed if caught without their regular food.
If you have to introduce a new food to your dog and you are not able to follow the usual advice to introduce the new food slowly over time, Dorwest's Tree Barks Powder can give your dog valuable digestive support through the sudden transition.
Nails
Keeping nails in good shape and trim is important as long nails can cause pain and much more serious conditions if left unattended. We have two sizes of Scissor Action Nail Clippers as well Hart Well's Trimmex – a styptic powder that helps to stop a nail from bleeding if you accidentally clip off a little too much and go into the quick. Best avoided but sometimes this happens even to the most experienced dog people when clipping nails.
Teeth
We keep our dogs' teeth as clean as we possibly can as Italian Greyhounds are prone to periodontal disease. Oral health is important to all dogs breeds though - plaque can lead to tartar build up and gum disease which in turn can lead to some serious health issues. 
Daily brushing with Dorwest's Roast Dinner Dog Toothpaste (our dogs actually like the taste!) and a Canine Toothbrush or a small piece of muslin cloth on your finger can make a huge difference to their breath and their long term health.
Another great support for oral hygiene is Proden PlaqueOff - a ground seaweed powder that can be added to a dog's food daily to help reduce plaque and tartar build-up over time.
Ears
Keep ears clean to avoid painful ear infections and other serious health conditions. For All Dog Kind's Topical Ear Cleaning Fluid is anti-inflammatory, antiseptic and antibacterial - gently eliminates blocked earwax and dirt, leaving the ear canal hygienically cleansed and odour free.
Coat Grooming
Our own gang need little grooming although we do give them a bath every week. Luckily we have Claire, a member of our show team and also a professional dog groomer, who has advised us on what our canine customers may need in these challenging times.
Claire recommends two dog shampoos by For All Dog Kind, which is apparently the brand of choice for many professional dog groomers. We have a 2-in-1 Shampoo and Conditioner that is a great all-rounder for all coat types and a 'Simply Calming' Shampoo for sensitive skin.
We have also stocked up on Animology's brilliant Fox Poo Shampoo for those "extra strong" emergencies and Animology's Clean Sheets – giant, extra strong dog wipes with a rough side and a smooth side which are perfect for getting dirt off a dog's coat.
Once washed and clean, many dogs also need brushing and combing to get rid of dead coat and to stop the coat from matting. Claire is advising her clients to keep on top of their dog coats at home armed with a Slicker Brush, Aluminium Comb and a pair of Safety Scissors. Perfect.
All dogs love a tasty treat but we try to treat on the basis that dogs should "work" for a treat, especially when we spend all day, every day with our own gang. While we're at work, we do little training exercises with our gang throughout the day – even if it's something a simple as a sit followed by a reward.
As a boredom buster we give them a Beco Pets Rubber Treat Ball to play with – load it up with some Innoncent Hound Sliced Duck and Cranberry Dog Treats and let them loose to chase, chew and throw it around to release the treats.
Also handy are the Lickimat Buddy Mats and Lickimat Wobble Bowls – brilliant for soft, spreadable treats such as Arden Grange's Liver Paste or with a wet food, or even peanut butter. Dogs lick the treat off the Buddy Mat or Wobble Bowl and continuous licking can have a soothing effect on dogs so it's a yummy treat but also a mindful treat too.
We've included a boredom buster for humans too for this time of being confined at home - a bake at home Canine Birthday Cake Mix for dogs! 
That's a run down of almost everything in our Emergency Supplies Shop. We think we've got most bases covered when it comes to the essentials for keeping most dogs well from an every day perspective and we hope that it helps our customers in these challenging times.
Keep well and stay safe.
Best wishes,
Christine & Jenny