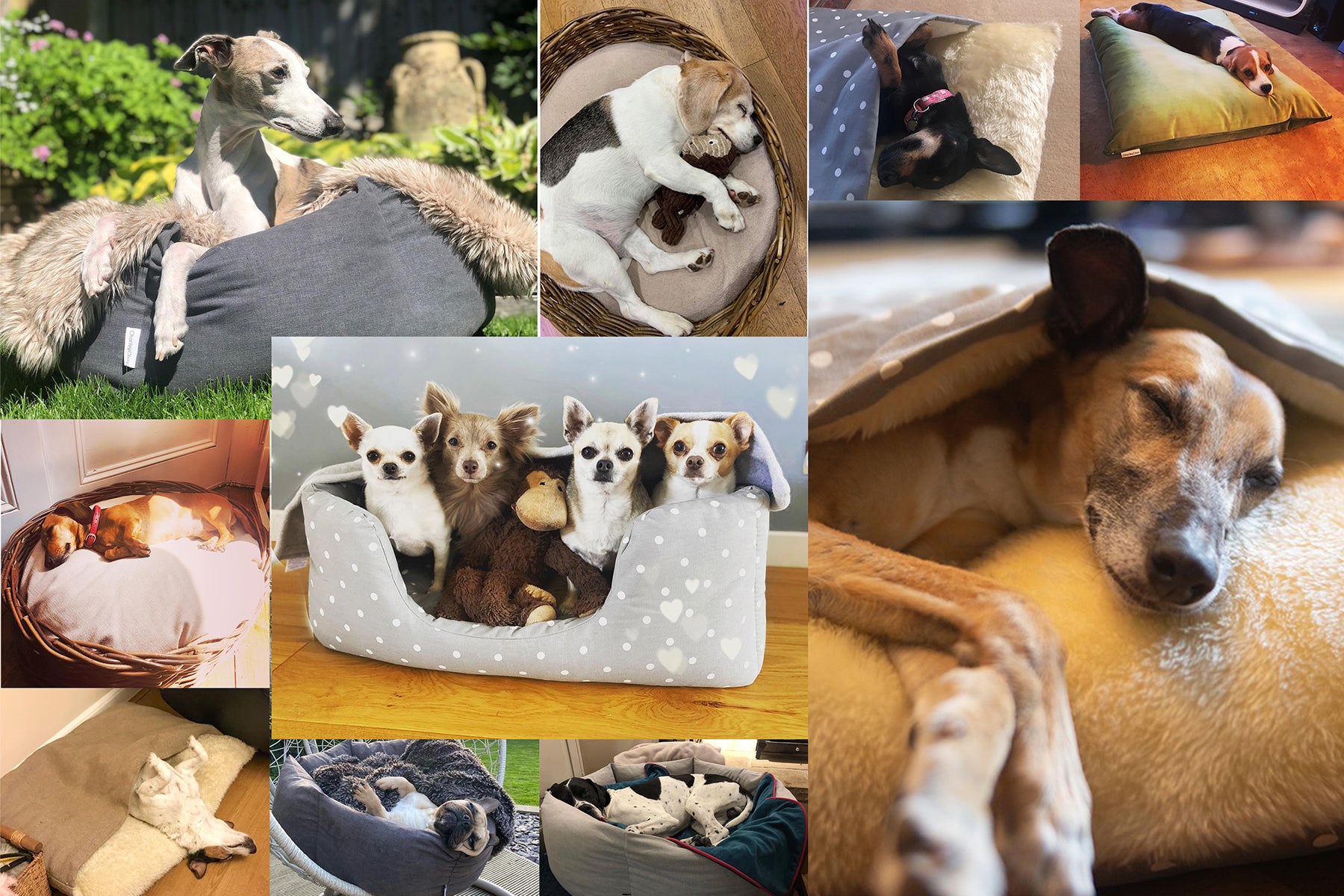 Winners announced - #mycharleychau 10th birthday competition
And the winner of the #mycharleychau 10th Birthday Competition is ... 
From over 300 entries we had to choose just one winner to take the first prize of a fantastic dog-friendly holiday at the Pinkmead Estate plus a Charley Chau Bliss Bolster Bed, our latest luxe dog bed that launches on 14 September 2020. And so to the winner. A unanimous decision at team Charley Chau, this wonderful video entry ... 
[Music credit: Ukulele, royalty free music from Bensound]
We hope you'll agree that Fraggle's video entry is a well-deserving winner. So clever, so creative and so much fun! We thought Fraggle's video captured the essence of our theme "My dog in Charley Chau bliss" to perfection! Well done Fraggle! 
The Runners up ...
We had an excruiatingly difficult job in choosing just two runners-up for the #mycharleychau 10th birthday competition - there were sooooo many gorgeous entries and it was incredibly tough! 
The two runners-up each receive a Bliss Bolster Bed by Charley Chau, our latest luxe bed that launches officially on 14 September 2020.
Without any further ado, the runners-up for the #mycharleychau 10th birthday competition are ... 
Our first runner-up: Enzo - day eight in his new home! 
Congratulations Enzo! We just love Enzo's photo - it's the kind of photo we would have liked to have taken ourselves and we felt it really hit the competition theme of "My Dog in Charley Chau Bliss". A gorgeous little dog tucked and all safe and cosy in their Charley Chau - just as it should be! Enzo entered via Instagram and you can view Enzo's original entry on Insta.
Enzo entered several photos into the #mycharleychau competition and while the one above was the winning shot in the end, it was a toss up really between that one and the one below! One blissed out, content little puppy!
Our second runner-up: Hugo Stanton with "Donut Disturb"
That face! It was the face that did it! We love this photo - a totally natural capture of a really handsome boy just catching some snoozes in his Charley Chau. Heart melting. Congratulations Hugo! Hugo's original entry is on the Charley Chau FB page.
A huge thank you to everyone who entered!
We had over 300 gorgeous entries which made judging to select just one winner and two runners-up incredibly tough. So many wonderful photos and videos were submitted - it was amazing to see so many dogs in Charley Chau bliss! 
#mycharleychau is an ongoing competition with a Charley Chau gift card up for grabs every month so do keep sharing your photos!