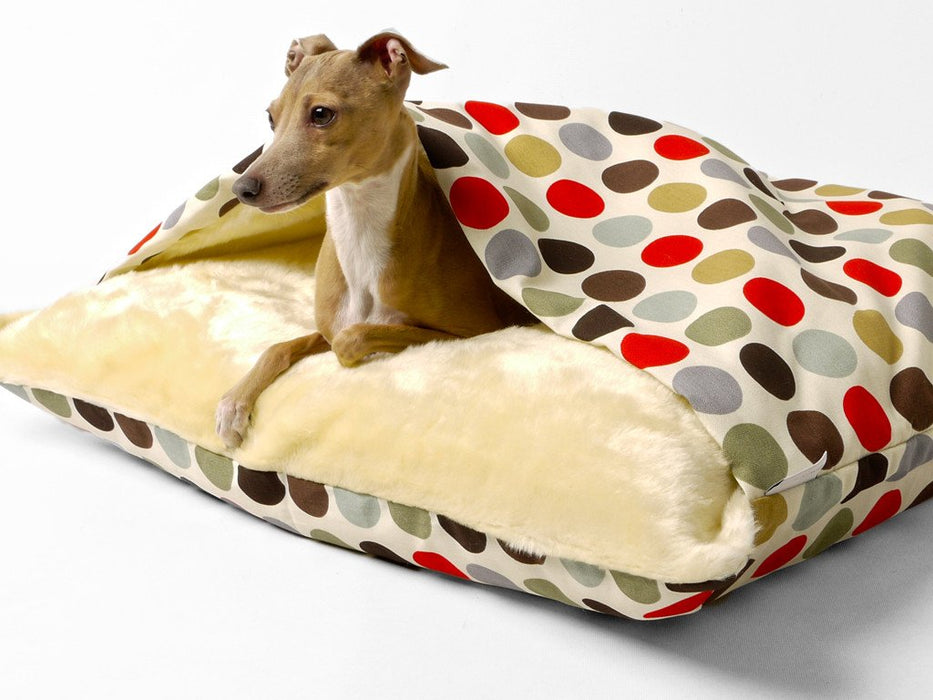 Dog Snuggle Bed in Cotton
Original price
£70.83
-
Original price
£170.83
The Charley Chau Snuggle Bed - perfect for dogs that like to snuggle under blankets!
Important Stock Notice: Our Medium Great Spot and Large Dove are currently out of stock. Please email hello@charleychau.com for an expected restock date.
Our signature bed, the Charley Chau Snuggle Bed is designed for dogs that love to burrow and sleep under blankets! Charley Chau Snuggle Beds have a cosy Faux-Fur Fleece lined pocket that dogs can burrow into to stay snug and warm even when you're not home to tuck them in!
Snuggle Beds are perfect for any dog that loves to sleep under blankets - particularly Terriers, Hounds and Sighthounds. Terriers and Hounds have a natural instinct to tunnel or burrow (for example Jack Russell Terriers and Dachshunds that were bred to go to ground), and short-coated Sighthounds are creatures of comfort that instinctively look for the softest and warmest place in the house to sleep! 
The video on this page shows Anna getting into a Medium size Snuggle Bed and she stands 15" at shoulder.
Charley Chau Snuggle Beds are seriously cosy, constructed like a dog sleeping bag but with our super-comfy luxury mattress in the base.
The Snuggle Bed pocket is lined top and bottom with Charley Chau's exclusive faux-fur fleece, knitted specially for us in the UK - super-soft and warm but breathable and moisture-wicking too
Deep-filled luxury mattress in the base is constructed with internal wall panels to ensure the mattress stays soft and supportive over time - no unwelcome lumps and bumps even after washing
Fully removable outer cover and machine washable everything
Spare Covers, Waterproof Bed Liners and Replacement Mattress Inners are available too
Made in England with love
Charley Chau Snuggle Beds are also available in heaps of other fabrics. Browse the full  Snuggle Bed collection >
Charley Chau Snuggle Bed sizes
Small - approx. 65x55cm - a good size for Chihuahuas, small Mini-Dachshunds, small Italian Greyhounds, and very tiny Jack Russells;
Medium - approx. 80x60cm - a good size for Boston Terriers, French Bulldogs, Pugs, most Jack Russells, Mini-Dachshunds and taller Italian Greyhounds;
Large - approx. 100x80cm - a good size for Whippets, Working Cocker Spaniels, Standard Dachshunds, small Lurchers & Hungarian Vizslas.
Please allow slightly more room for your dog when choosing a Snuggle Bed size as Snuggle Beds need to be slightly larger than a standard dog bed that a dog would lie on top of because of the stitched in blanket top. If in doubt please measure your dog and drop us a line on hello@charleychau.com and we'll be happy to advise. 
Washcare
Snuggle Bed removable outer cover and luxury mattress inner:
See our Nerds Guide to Washcare Labelling for more info on washcare.
Charley Chau Snuggle Bed Covers have a 100% cotton print outer fabric and are lined a super-soft Faux-Fur Fleece which is knitted exclusively for Charley Chau with a 100% acrylic pile. The Luxury Mattress Inner has a 60/40% polycotton case and is filled with 100% polyester hollowfibre.